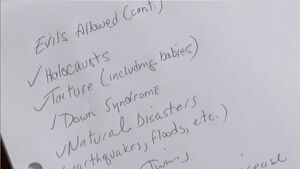 The List of Evils is a list created by Mr. Deity and recorded by Larry. It contains the evils that are to be allowed to exist in the universe.
The list is compiled in Mr. Deity and the Evil. The written list is briefly shown in Mr. Deity and the Voicemail, and some items on the list are mentioned as the side effects of Adam requesting a wife in Mr. Deity and Da Man.
The items on the list that were mentioned are:
Holocausts
Torture
Down Syndrome
Natural Disasters
Conjoined twins
Lou Gehrig's disease
Childhood cancer
Céline Dion
Mr. Deity decided to exclude allowing people to harm each other with merely their thoughts.